''Nach wind greifen''
Kreuzkirche Nürtingen, Heiligkreuzstraße 4, 72622 Nüritngen
21. Juni - 19. Juli 2020
täglich 10 Uhr bis 18 Uhr

Kreuzkirche Erdgeschoss

Online-Eröffnung mit Tesfaye Urgessa und Dr. Katrin Burtschell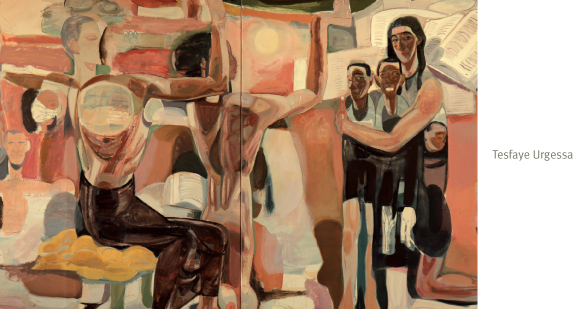 WAS MEINEN SIE, FRAU HOFFMANN?

FÜNFUNDZWANZIGJAHREKLASSENCORDULAGÜDEMANN

Mit der Ausstellung "was meinen Sie, Frau Hoffmann?" bietet die Galerie ABTART ein Forum für 22 ehemalige und derzeitige Studierende der Malereiklasse von Prof. Cordula Güdemann an der Staatlichen Akademie der Bildenden Künste Stuttgart.

AUSSTELLUNGSBEGINN: Sonntag, 28. Juni 2020, 11:00 – 19:00 Uhr
Prof. Cordula Güdemann ist anwesend.

ERWEITERTE ÖFFNUNGSZEITEN an vier Donnerstagen:
02., 16., 30. Juli + 13. August 2020, 14:00 bis 21:00 Uhr
Künstler der Ausstellung werden anwesend sein.

Kunst ist uns wichtig, Ihre Gesundheit ebenso.
Wir freuen uns auf Ihren Besuch.
AUSSTELLUNGSDAUER:
28.06.2020–28.08.2020


ORT:
GALERIE ABTART | REMBRANDTSTRASSE 18 | 70567 STUTTGART
T +49.(0)711.63 34 30-20 | F +49.(0)711.63 34 30-29
INFO@ABTART.COM | WWW.ABTART.COM

Galerie Schrade – Schloß Mochental
Tesfaye Urgessa
Übersehe mich nicht
Die Ausstellung ist ab Sonntag,
10. Mai, 11 Uhr bis 28.Juni in Schloß Mochental zu sehen.
89584 Schloß Mochental
bei Ehingen / Donau
Öffnungszeiten
Dienstag–Samstag 13–17 Uhr
Sonn- und Feiertage 11–17 Uhr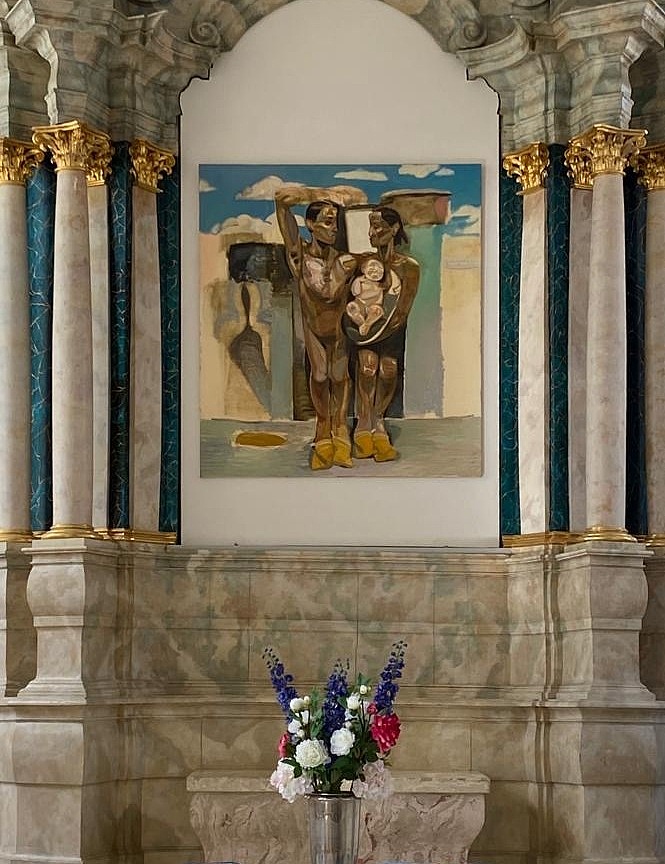 Tesfaye Urgessa 30 December 2019 - 15 February 2020 Addis Ababa


Addis Fine Art is pleased to present Tesfaye Urgessa's solo exhibition No Country for Young Men. Opening to the public in Addis Ababa, on 30th December 2019 and running until 15th February 2020, the show celebrates the artist's debut with the gallery.

Since graduating from Alle School of Fine Art and Design in 2006, Tesfaye Urgessa (b. 1983) has quickly become one of the most prominent contemporary artists from Ethiopia. He enrolled at the Staatlichen Akademie der Bildende Kunst in 2009, and has been based in Germany ever since. Urgessa artistic subject matter focuses on social criticism, race, and the politics of identity.

No Country for Young Men, is named after one of the 20 portraits displayed in the exhibition, each one confronting the viewer with the reality of existing as a so-called "other". Millions of young men and women, forced to emigrate to unknown lands, can find in Urgessa's work as sympathetic to their own stories, and defying the established power dynamics. The powerful distorted figures are fighting for a place in a world shaken by conflict and crisis.

Influenced by Ethiopian traditional iconography, German Neo-expressionism from the 1980s, and the School of London, Urgessa's own style encompasses all of these elements, and much more. At the crux of his work lies a fascination with story-telling. The objects and naked bodies' presence becomes a statement of agency. Sometimes by diving their gaze into the viewer's, like the central figure in VUPs VIII, or by their simple yet proud depiction of the individual, of which Gesicht III is a perfect example.

It is in this mute, heartrending reciprocity between the observer and the observed that Tesfaye, painting from memory, lets his spontaneity and experiences take over. Hushed and mature colours dominate the seemingly chaotic compositions that happen without prior planning. Brushstrokes become muscles, tendons, flesh and chromatic masses construct the rooms to contain the figures. The architecture of the scene is brief but enough.
Tesfaye Urgessa, Nina Raber-Urgessa, Zoe Urgessa – Ich halte dich festhalten
surreale, narrative, figurative, teils sakrale, oft humorvolle Gemälde zweier Generationen
Im Projektraum: Rauminstallation mit Papierarbeiten und Gemälden von Friederike Just
Eröffnung: Freitag 13.09.2019, 19 Uhr; Einführung: Marko Schacher
Dauer: 14.09.2019 - 09.11.2019, Di-Fr 14-19, Sa 11-16 Uhr
Galerienrundgang art alarm: Sa 21.09., 11-21 Uhr; So 22.09., 11-18 Uhr
Führung für Familien durch die Familie Raber-Urgessa: Sa 21.09., 15 Uhr (Eintritt frei, ohne Anm.)
Lesung/Familiengeschichten – Lyrik und Prosa von Tanja und Mathias Jeschke: So 22.09., 15 Uhr




Atemzug



Galerie Tobias Schrade

06.07. bis 17.08. 2019

Eröffnung: Freitag 05.07. 2019 ab 20Uhr




Auf der Insel 2

Fischerviertel

89073 Ulm (Donau)
T. +49 (0) 731 175 566 0

E. info@galerie-tobias-schrade.de
SAVE THE DATE SO. 30. JUNI
Offenes Atelier/ Kunst-Kaffee-Kuchen

Herzliche Einladung am
30. Juni,
in unsere neues Atelier zu Kaffee und Kuchen. Ihr findet uns auf dem selben Areal (Greiner) wie letztes Jahr in (
Galgenberg straße, 72622 Nürtinge) Nur Hausnr. 12
, direkt an der
Straße von 11 Uhr bis 17 Uhr. Wir freuen uns auf euer Kommen.
Nina und
Tesfaye Urgessa
2017
• Auszeit, Galerieverein Wendlingen,
• Free fall,Galerie Evelyn Drewes, Hamburg
• Art Karlsruhe-Messeauftritt, Schacher –
Raum für Kunst
2016
• Fremdkörper, Schacher – Raum für Kunst,
Stuttgart (zsm. mit Tillmann Damrau)
• Leibesvisitationen, Henßler, Laval & Partner, Nürtingen
• Ethiopia Today, Kunststation Kleinsassen,
Hofbieber-Kleinsassen
2015
• Body and Soul, Sympra GmbH, Stuttgart
• Hängung #1, GersonHöger Galerie,Hamburg
• Augenweite – 5 Jahre im Dialog, Schacher –
Raum für Kunst, Stuttgart
• Tesfaye Urgessa – Untitled, Galerie K, Köln
• Spuren des Ichs, Art Sous Terrain/Kulturkreis
Grafenau, Grafenau-Dätzingen
• Untier – Klasse Güdemann, Galerie Peter
Tedden, Düsseldorf
• Die Welt kommt nach Hause – Klasse
Güdemann, Hohenloher Kunstverein,Langenburg
• Kunststudentinnen und Kunststudenten
stellen aus, Bundeskunsthalle Bonn
• Art Karlsruhe-Messeauftritt, Schacher –
Raum für Kunst
2014
• Aka 24/7, Schaukästen vor dem Ministerium
für Finanzen und Wirtschaft, Stuttgart
• Diplomanden-Ausstellung, Staatliche Akademie
der Bildenden Künste Stuttgart
• Leibeigenschaften, Schacher – Raum für
Kunst, Stuttgart (zsm. mit Eva Koberstein)
2013
• Doppelgänger, Schacher – Raum für
Kunst, Stuttgart (zsm. mit AnnetteMeincke-Nagy)
2012
• Heimatrand – Klasse Güdemann, Akademie
der Diözese Rottenburg-Stuttgart, Hohenheim
• One Painting, Five Artists, Akademie
Solitude, Stuttgart (auf Einladung von Farzaneh Ghane)
• Zwischenich, Winzerverein Meersburg
(zsm. mit Nina Raber-Urgessa)
2011
• Kunst im Kessel, Horváth und Partners,Stuttgart
• Herbstzeitlose, Galerie Strzelski, Stuttgart
• Tesfaye Urgessa – Attachment, Kulturverein Nürtingen
2010
• Camillo-Michele-Gloria-Preis, GasVersorgung
Süddeutschland (GSV), Stuttgart
2008
• Tesfaye Urgessa – Like ha hu, Nationaltheater,
Addis Abeba, Äthopien
2007
• A Thin Line between, Lela Gallery, Addis
Abeba, Äthopien
2006
• BA Abschluss-Ausstellung, University for Arts and Design, Addis Abeba, Äthiopien